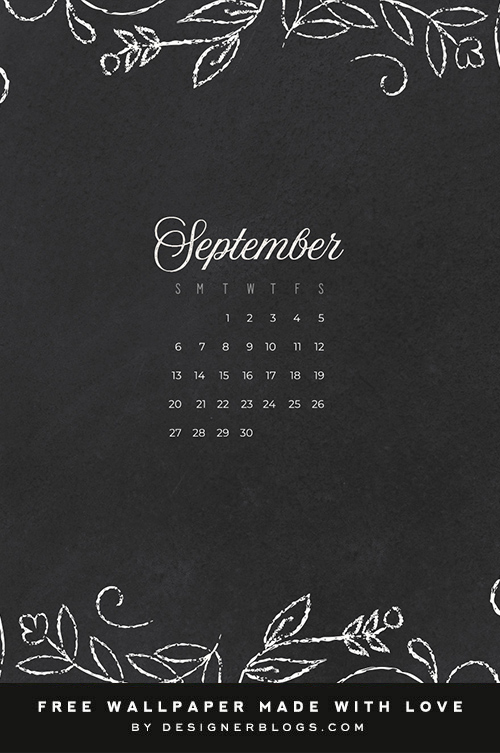 Our free September wallpaper is here!
For me, September was always a month strictly connected with the beginning of school as in my country, the first day of the academic year is September 1st. It gave me an idea to incorporate blackboard and chalk drawings in this month's free wallpaper.
We did not have a simple black and white theme for a long time, so I think it is time for something for all of you who aren't really fans of colorful flowers.
---
For all the mobile users
September's free wallpaper comes with two different mobile phone layouts. They are great to use at once – the simple version for your phone background and the one with a quote for the lock screen.
Let me know in the comments below if you find this addition useful!
---
This month quote
As the central theme of September's wallpaper is education, I made sure to pick a quote that will match it.
Learning never stops
P.S the square image is also included in the download package below!
---
What font is it?
Free September's wallpaper features a script font called Aurora. It comes with a few different versions, but the one I was using is called Aurora Aged.
---
Looking for more? Check our previous wallpapers!
In conclusion, the free download includes three desktop options – one with the calendar and one without the calendar and one with a quote. There is also a wallpaper for tablet and two options for the phone. We have also included an Instagram ready square with the weekly quote.
Your voice matters!
If you have your favorite quotes and would like them to appear on the next free wallpaper, make sure to post them in the comments below or send us your ideas via email.
Enjoy!
FOR PERSONAL USE ONLY.
---
Lastly, we would appreciate if you can share this freebie. It is really easy! Just click on the buttons below. It is completely free for you but helps us grow and produce even more content.
Share and help us grow. Thanks!
---
P.S This post includes affiliate links so by clicking them you are supporting us. Thanks!